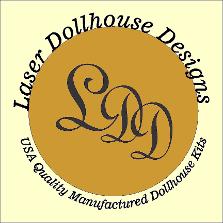 Dollhouse Kits made in the USA!!!!!

NOTE: Due to high volume some items may take longer to ship then the general 5 to 7 business days.
Welcome to Laser Dollhouse Designs. We are happy to have you, please visit our store and review our great items.

Anyone can cut and sell a square box with windows and doors!!!
Here at Laser Dollhouse Designs we make unique decorative houses which replicate true artful models.
All kits are original designs made right here in the USA.
Our manufactured Dollhouse kits are made from quality wood here in Dawsonville, GA.
Kits come in three true building scales:
RETAILERS!! We would like you to retail our houses in your store? Contact us! We want to hear from you..

Laser Dollhouse Designs Inc.
1060 New Bethel Church Rd
Dawsonville, GA. 30534
(757) 589-8917 Cell
© 2020 - Laser Dollhouse Designs Inc. - All Rights Reserved