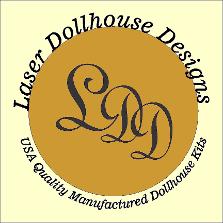 Dollhouse Kits made in the USA!!!!!

Free Shipping to Lower 48 states on all orders over $50
Use promotion code
SHIPPING on checkout!!
International customers use promotion code
SHIPINT for 20% discount to assist in offsetting some shipping cost.
Note: some 1:12 scale houses made of Birch hardwood have been removed as we look for a new supplier as they no longer carry that wood stock or we change house over to Baltic Birch.
Anyone can cut and sell a square box with windows and doors!!!
Here at Laser Dollhouse Designs we make unique decorative houses which replicate true artful models.
All kits are original designs made right here in the USA.
Our manufactured Dollhouse kits are made from quality wood here in Virginia Beach, VA.
Kits come in three true building scales:
1:12 scale with a ceiling height of 8-10"
1:24 scale with a ceiling height of 5-5.5"
and 1:48 scale with a ceiling height of 2.5".
Purchase with confidence and a 30 day money back guarantee.
RETAILERS!! We would like you to retail our houses in your store? Contact us! We want to hear from you..

Laser Dollhouse Designs Inc.
3322 Virginia Beach Blvd. Suite 115
Virginia Beach, VA. 23452
(757) 589-8917 Cell
© 2019 - Laser Dollhouse Designs Inc. - All Rights Reserved